APPRENTICESHIP TESTIMONIALS
Hear from Florida employers and apprentices.
TAKE THE FIRST STEP
See how to set up your registered apprenticeship program.
WE CAN HELP BOTH BUSINESSES AND JOB SEEKERS
EDUCATION PARTNERS
TOOLKIT
In-depth guide on how to build and launch an apprenticeship program.
LOCAL WORKFORCE DEVELOPMENT BOARD TOOLKIT
Resources for CareerSource Florida network partners to use in employer outreach.
IS AN APPRENTICESHIP RIGHT FOR YOUR BUSINESS?
Learn more about the core components to see if apprenticeship is right for you.
GET READY TO LAUNCH
Once your program is established and registered, you are ready to launch.
KEY STEPS TO AN APPRENTICESHIP PROGRAM
Five key steps involved in establishing an apprenticeship program.
APPRENTICESHIP TRAINING MODEL
As you set up training for your program, you will need to decide how to model it.
APPRENTICE FLORIDA WEBSITE BANNERS
Apprentice Florida banners to download and add to your website.
APPRENTICE FLORIDA POWERPOINT TEMPLATE
Customizable PowerPoint template with information about Apprentice Florida.
Once established, apprenticeship programs reduce turnover rates, increase productivity, lower the cost of recruitment and increase safety. The return on investment is clear. For every dollar employers invest in apprenticeships, they receive an average of $1.50 in return. Registered apprentices earn nearly 2.5 times more than their peers over the course of their careers.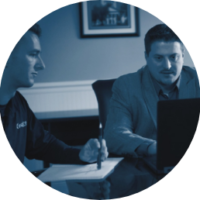 "We were able to stand up an apprenticeship program in a matter of weeks and now have several dedicated new employees growing their skills and their paychecks as they advance through our program."
– Craig Goodson
Inspired Technologies